Frostbrood Whelpling
Use: Teaches you how to summon this companion.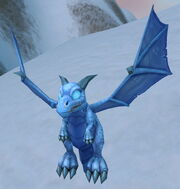 Frostbrood Whelpling is an undead whelp companion. It matches the Frost version of the

[Deathlord's Vilebrood Vanquisher].
Source
This item can be purchased for 1,000
from Slimy in Acherus: The Ebon Hold above the Broken Isles. In order to buy it, you must have completed


 [45] The Lost Glacier.
Pet Journal
Among the Death Knight's forces, the frost wyrm is the most formidable. This whelpling is no different.
Battles
Undead: Returns to life immortal for one round when killed, but deals 25% less damage.
Patch changes
Patch 8.1.5 (2019-03-12): Item quality reduced from epic to rare.

Patch 8.0.1 (2018-07-17): Purchase no longer requires you to have Blades of the Fallen Prince equipped and  

[

Power Ascended

]

unlocked.

Patch 7.2.0 (2017-03-28): Added.

See also
External links
Battle pet types
Undead battle pets

Backbone

Carpal

Clutch

Frostbrood Whelpling

Maw Crawler

Micromancer

Mu'dud

Severs

Spinebug

Toenail

Torghast Lurker

Writhing Spine