The subject of this article was removed from World of Warcraft in patch 7.0.3.

This includes items and quests that can no longer be obtained or are now deprecated.
The in-game information in this article is kept purely for historical purposes.
Frostfire Bolt

Level 1 mage ability
40 yd range
4% of base mana
2.75 sec cast
Launches a bolt of frostfire at the enemy, causing (161.7% of Spell power) Frostfire damage and slowing the target's movement by 40% for 8 sec.

Usable by
Class
Mage
Properties
School
Frostfire
Cooldown
None/Global Cooldown
Other information
Level learned
1
Improvements

[

Brain Freeze

]

,

[

Enhanced Pyrotechnics

]

, Glyph of Frostfire Bolt
Related debuff

Frostfire Bolt
Movement slowed by 40%.
Duration: 8 seconds
"Fire so hot it numbs, and frost so cold it burns." —Suvok Frozeneye[1]
Frostfire Bolt is a mage ability, learned at level 1. It deals direct Frostfire damage and slows the target by 40% for 8 seconds.
Notes
Frostfire Bolt is available to the Frost specialization and is preferably used when

[Brain Freeze] is active.
Frostfire Bolt is replaced by

[Arcane Blast] for Arcane mages and by

[Fireball] (at level 12) for Fire mages.
Improvements
Abilities
Frost
Glyphs
Major Glyph
Requires Level 75
History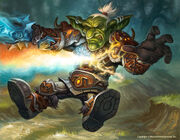 Before Cataclysm, Frostfire Bolt enabled mages to play an Elementalist spec. With the talent changes in patch 4.0.1, it is no longer possible.
Patches and hotfixes
References
External links