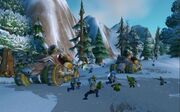 The Frostmane Front is an area controlled by the Frostmane ice trolls just west of the Frostmane Retreat in Dun Morogh. They're under attack by the nearby dwarves trying to push them back before they claim more land. A group of siege engines and mortar teams support the dwarven riflemen while destroyed ballistae and steam tanks can be seen, being scavenged by the trolls.

This section concerns content related to Legion.
During the Legion Invasions, the area was invaded by the demons.
Patch changes
External links