Frosty's Collar
Use: Teaches you how to summon Frosty!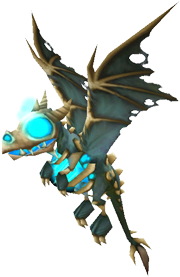 Frosty's Collar teaches you how to summon the Frosty companion. It is given to players who purchased the World of Warcraft: Wrath of the Lich King Collector's Edition.
Pet Journal
Accidentally created when the Lich King's deathly powers raised Rimefang from undeath.
Battles
Undead: Returns to life immortal for one round when killed, but deals 25% less damage.
Patch changes
External links
Battle pet types
Undead battle pets

Backbone

Carpal

Clutch

Frosty

Lost Soul

Maw Crawler

Micromancer

Mu'dud

Severs

Spinebug

Toenail

Torghast Lurker

Writhing Spine