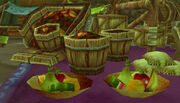 Fruit are sweet and fleshy seedpods, and are one of the main types of food in WoW.
Uses
Player Characters can eat fruit to recover health, as well as get a buff at higher levels.
Some edible fruit items are used as ingredients for foods that can be created by cooking.
(These are the same uses as other types of food.)
Sources
Types of buyable fruit
1 This is the base price before any discounts.

See also: Fruit vendor