This article contains creatures from concept art. It may not exist in the Warcraft universe.

This article is kept purely for historical purposes and should probably not be under any other categories.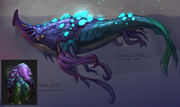 The fungal whale is a type of whale only seen in a piece of concept art for Warlords of Draenor. It was seemingly intended to be a resident of the Zangar Sea and a relative or predecessor to the fungal giants of modern-day Zangarmarsh.
Trivia
When asked about the fungal whales in a December 2014 Reddit AMA, Tom Chilton jokingly replied "Sounds like we need a follower mission for that... The Fungal Whale Expedition",[1] referencing how the isle of Farahlon's only appearance in Warlords of Draenor is in a follower mission.
References