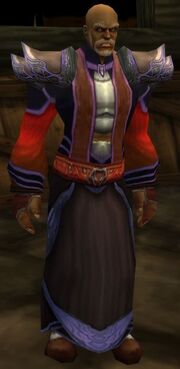 Gakin the Darkbinder is a human warlock located in the Slaughtered Lamb in the Mage Quarter of Stormwind City. His student Surena Caledon stole a

 [Bloodstone Choker] from him.
During the Burning Legion's third invasion, Gakin traveled to the Dreadscar Rift to join the Black Harvest. He coordinates various warlock missions.
Quests

The subject of this section was removed from World of Warcraft in patch 4.0.3a but is present in Classic.
Notes
It is implied that Gakin and Surena Caledon were somehow involved romantically.
See also
External links