Gallows' Corner[49, 32]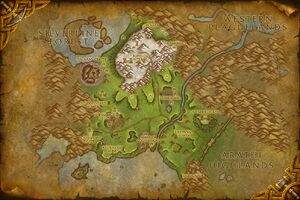 is a crossroads in the Alterac Mountains, close to the Ruins of Alterac. This area is held by Crushridge ogres who patrol the area around the ruined scout tower.
No quests take place here and this area no longer serves any purpose.
In the RPG

This section contains information from the Warcraft RPG which is considered non-canon.
Gallow's Corner, which overlaps the road from Tarren Mill to the Plaguelands, is a settlement of the Crushridge ogres.[1]
References
External links