This article is a copy of "Classes," a collection of official articles from the World of Warcraft Community Site. These articles overviewed the playable classes available in World of Warcraft prior to Cataclysm. The original articles are no longer available, but they can still be viewed through online archives (see below).
The articles also laid out class abilities, armor types, roles, races and other basic gameplay information about each class. However, that information is omitted in this copy.
Article Content
Do NOT change this article or section. It needs to be an accurate copy of the source.

It acts as a source for other articles here on Wowpedia, providing accurate information through citations.
For information about sources and citations, please see Wowpedia:Lore policy and Wowpedia:Citation.
What type of hero will you be? This is one of the first questions you'll answer when playing World of Warcraft. After deciding what race to play, each character will choose one of several classes. Each race has its own list of class options available to it. Throughout their entire careers, characters will be able to learn from a pool of over 1000 spells and skills. A character's class will help determine which spells and skills he or she can master; this page lists just a few for each class. Below you will find information detailing each of the classes you'll be able to play in World of Warcraft, including a few examples of the numerous spells and skills available to each class.
Druids

Druids are the keepers of the world and masters of nature with a diverse array of abilities. They are powerful healers, capable of curing poisons and raising fallen comrades in the thick of battle. Druids also command nature's wrath, calling down ranged blasts of energy, summoning swarms of insects, or entangling their foes in the earth. But druids are also masters of the wild, able to shapeshift into a great bear, cat, or even sea lion, gaining their powers in combat or travel. Druids are a diverse class with a variety of playstyles, capable of filling any role.
The Druid gives players several play style options. A Druid in normal form is a caster that can fight with spells or weapons. In Bear form the Druid becomes a Warrior with Rage. While in Cat form the Druid becomes a Rogue with Energy and stealth. The Druid can also transform into two other special animal forms. With its ability to heal itself and fellow characters, the Druid can also take on the role of a Priest. A Druid is not as versatile in its abilities as a Priest is, lacking the spells Power Word: Shield, but is otherwise a very capable healer.
[Class Information]
Hunters

Hunters are deadly marksmen, capable of bringing their enemies down from a distance with bows or rifles. Skilled survivalists, they can track enemies or lay traps to damage and entrap their foes. Hunters also possess a primal connection to the beasts of Azeroth, capable of taming and training them to keep as loyal guardians. Wearing light to medium armor, hunters can also dual wield weapons in combat, fighting beside their pets in battle.
The Hunter is a vicious damage dealer. With their ability to pull extremely well and hit monsters hard from far away, they certainly help take down monsters more quickly. Their pets add to the damage count and can aid somewhat in managing monster aggro. The variety of traps allows the Hunter to control crowds to an extent, as well. The combination of their extreme range, decent damage, and trap capability, Hunters are the perfect pullers for any group.
[Class Information]
Mages

Mages wield the elements of fire, frost, and the arcane to destroy or neutralize their enemies. They are a robed class that excels at dealing massive damage from afar, casting elemental bolts at a single target, or raining destruction down upon their enemies in a wide area of effect. Mages can also augment their allies' spell-casting powers, summon food or drink to restore their friends, and even travel across the world in an instant by opening arcane portals to distant lands.
When seeking someone to introduce monsters to a world of pain, the Mage is a good choice. With their elemental and arcane attacks, it's a safe bet something they can do won't be resisted by your chosen enemy. Damage is the name of the Mage game, and they do it well. Their arsenal includes some powerful crowd control spells, also, giving them the ability to keep hordes at bay -- in fact, these abilities can be used on the most common creatures in the game, thus making them extremely valuable for this purpose.
[Class Information]
Paladins

Guardians of the Holy Light, paladins bolster their allies with holy auras and blessing to protect their friends from harm and enhance their powers. Wearing heavy armor, they can withstand terrible blows in the thickest battles while healing their wounded allies and resurrecting the slain. In combat, they can wield massive two-handed weapons, stun their foes, destroy undead and demons, and judge their enemies with holy vengeance. Paladins are a defensive class designed to outlast their opponents.
The Paladin is a mix of a melee fighter and a secondary spell caster. The Paladin is ideal for groups due to the Paladin's healing, Blessings, and other abilities. Paladins can have one active aura per Paladin on each party member and use specific Blessings for specific players. Paladins are pretty hard to kill, thanks to their assortment of defensive abilities. The Paladin can also heal with Holy Light, unlike other combat classes. The Paladin is an Undead specific fighter as well, with several abilities designed to be used against the Undead.
[Class Information]
Priests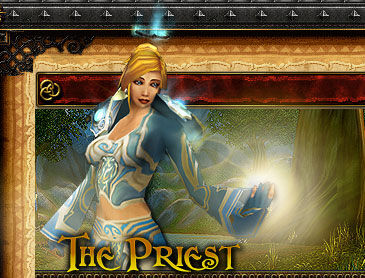 Priests are the masters of healing and preservation, restoring their wounded allies, shielding them in battle, and even resurrecting their fallen comrades. While they have a variety of protective and enhancement spells to bolster their allies, priests can also wreak terrible vengeance on their enemies, using the powers of shadow or holy light to destroy them. They are a diverse and powerful class, highly desirable in any group, capable of fulfilling multiple roles.
[Class Information]
Rogues

Rogues are a lightly armored melee class capable of dealing massive damage to their enemies in a flurry of attacks. They are masters of stealth and assassination, passing by enemies unseen and striking from the shadows, then escaping from combat in the blink of an eye. Rogues can also use poisons that damage or cripple their enemies, reducing their effectiveness in battle. Groups will find rogues valuable, for not only do they deal massive damage, but they can open locked doors or chests, and disarm hidden traps as well.
[Class Information]
Shaman

Shaman are the spiritual leaders of their tribes and clans. They are masters of the elements, using spells and totems that heal or enhance their allies in battle while unleashing the fury of the elements upon their foes. Shamans can wear medium armor, and even wield massive two-handed weapons in combat. They are a versatile class that can wade into battle, restoring their allies while hurling elemental bolts of lightning at their enemies.
The old phrase "jack of all trades, master of none" is an excellent way to describe the Shaman; they are the only real "hybrid" class in World of Warcraft. While they do not excel at any one aspect of their repertoire, they function passing well when performing most tasks called upon by a party. Need a support healer? Looking for a secondary tank? After another damage-dealer? Have an empty slot that needs someone to support the group in general? The Shaman can provide. They have a number of utility spells as well that help make life easier for any party.
[Class Information]
Warlocks

Warlocks are masters of shadow, flame, and demonic power. They are a robed class that excels at plaguing their enemies with disease or curses, hurling bolts of fire or shadow energy across the battlefield, and summoning demons to aid them in combat. While warlocks are powerful casters that deal damage from a distance, their demonic powers can also protect or support their allies in battle, or even summon other players from across the world using ritual magic to conjure portals.
Warlocks have both powerful damage spells (primarily dealing over time) and debuff spells that work well in conjunction with each other and with the abilities of their group mates. They have Curses for many occasions; in fact, they can easily be considered the best debuffers in the game. Their pets, too, help with the damage dealing and grant the Warlock extra abilities to put to use. They can also control crowds well with Seduction and Banish, and provide limited support in the form of their summoned stones.
[Class Information]
Warriors

Warriors can be a raging berserker or an iron-clad juggernaut, capable of withstanding tremendous attacks while protecting their allies from harm. They have a wide variety of attacks that do everything from cripple their enemies, to dealing massive amounts of damage in a single retaliatory blow, and enhancing their allies' fighting ability with battle shouts. They excel at fighting multiple opponents at once, gaining rage from every blow dealt or received to unleash their attacks. Warriors are a versatile class with a variety of play-styles to choose from.
The Warrior can be a defensive, shielded tank, a damage-dealing powerhouse, or a mixture of the two. Their abilities obviously pertain to the art of close combat; their stances carry with them different moves for different situations and party setups. All in all, the Warrior is one of the prime candidates to capture and hold the attention of creatures while they die to sword and spell.
[Class Information]
DeathKnight

The fearsome death knight, World of Warcraft's first Hero class, is not your average adventurer seeking to prove his or her worth on Azeroth's fields of battle. No longer servants of the Lich King, they begin their new calling as experienced, formidable adversaries, heavily armed and armored and possessing an arsenal of deadly and forbidden magic learned in the Lich King's thrall.
[Class Information]
Notes
The text of each class was updated several times over the 6 years this page was active, but it usually reflected small changes made in the game, not anything substantial. The versions in this article is from the last week the 2004 website was online, just before the 2010 revision.
Paladin, Priest, Shaman, Warlock and Warrior were the first classes added to this article on March 15, 2004, and marked Rogue, Druid, Mage and Hunter as "Coming Soon". Rogue was added March 26, Druid was added April 22, Mage was added April 30, and Hunter was added August 10.
Death Knights were not originally on this page; they were added to it in July 2008.
References
This page and the articles it contained can still be viewed here through the Wayback Machine.