This article is a copy of "Events", an official article from the 2010 BattleNet World of Warcraft Site. These articles overviewed the Events and Holidays in World of Warcraft prior to Legion. The original articles are no longer available, but they can still be viewed through online archives (see below).
Article
Do NOT change this article or section. It needs to be an accurate copy of the source.

It acts as a source for other articles here on Wowpedia, providing accurate information through citations.
For information about sources and citations, please see Wowpedia:Lore policy and Wowpedia:Citation.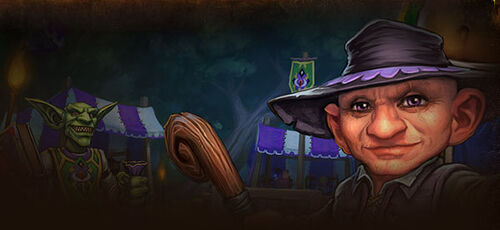 There's always an event to participate in somewhere on Azeroth! From weekly contests to yearly recurrent holidays, and a monthly carnival in-between, you'll never have to look far for a celebration in World of Warcraft.
Weekly
Prove to the world that you are the best on the fishing field!
Stranglethorn Fishing Extravaganza
Every Sunday
A fishing tournament, competed along the coasts of Stranglethorn Vale. Catch as many tastyfish as you can! Will you be one of the first to catch forty fish and win a prize?
Monthly
The monthly Darkmoon Faire is a carnival located on a remote and mysterious island.
Darkmoon Faire
One week, starting the first Sunday of each month.
A carnival that showcases the weird and the extraordinary, located on a mysterious island only accessible for the first week of every month
Seasonal Holidays
Join in the fun on Azerothian holidays! The Horde and the Alliance organize full-blown festivities for their people to celebrate historic days and special events.
Lunar Festival


16 February - 2 March (2014)

Every year the druids of Moonglade hold a celebration of their city's great triumph over an ancient evil.

Love is in the Air


5-15 February (2014)

Something is in the air in the major cities of Azeroth. Many guards and townsfolk spend their days giving and receiving gifts to other amorous citizens.

Noblegarden


21-28 April (2014)

The feast of Noblegarden has arrived. The proving grounds of each race, the place where young heroes first test their strength, each holds cleverly hidden treasure eggs.

Children's Week


28 April - 5 May (2014)

Show an orphan what the hero's life is like! Visit Orphan Matron Nightingale in Stormwind, Orphan Matron Battlewail in Orgrimmar, Orphan Matron Mercy in Shattrath, or Orphan Matron Aria in Dalaran and make a child's dream come true.

Midsummer Fire Festival


21 June - 5 July (2014)

A time of merriment and celebration, dedicated to the hottest season of the year.

Pirate's Day


19-20 September (2014)

Captain Demeza sails to the goblin town of Booty Bay and recruits land-lovers into her buccaneer ranks. Visit her or her henchmen in the capital cities if the pirate's life is for you!

Harvest Festival


2-9 September (2014)

The Harvest Festival is a time to commemorate those who have sacrificed their lives to help friends and allies. Feasts are held outside Orgrimmar and Ironforge in honor of these fallen heroes.

Brewfest


20 September - 6 October (2014)

First celebrated by the dwarves, Brewfest now holds appeal among all the races of Azeroth! Visit the Alliance camp outside Ironforge, or the Horde camp outside Orgrimmar, and join the party!

Hallow's End


18 October - 1 November (2014)

Hallow's End celebrates the break of the Forsaken from the Scourge. Fun and mischief reign as the Innkeepers of Azeroth give treats, and tricks, to whomever asks.

Day of the Dead


1-3 November (2014)

During the Day of the Dead, people gather in graveyards to celebrate with and cherish the spirits of those they have lost. One can find the festivities in the cemeteries of any major city, where celebrants cook, dance, don costumes, and more.

Pilgrim's Bounty


24 November - 1 December (2014)

Pilgrim's Bounty is a time to reflect upon one's good fortune and share with all around you.

World of Warcraft Anniversary


18 November - 2 December (2014)

It's World of Warcraft's anniversary! Many thanks from the WoW Dev Team for enjoying the world of Azeroth and beyond with us.

Feast of Winter Veil


16 December, 2014 - 2 January, 2015

Greatfather Winter is visiting the cities of Ironforge and Orgrimmar, courtesy of Smokywood Pastures. And throughout Azeroth, it is the season to be jolly!

New Year


31 December (2014)

A new year is beginning and all Azerothian peoples are celebrating it with wondrous fireworks as soon as night comes!
Source