For the game term, see Gauntlet (event).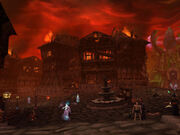 The Gauntlet is located inside Stratholme's Scourge side, just past a gate leading from Elders' Square. It leads on to Slaughter Square, which is barred from entry until all the ziggurats' defenders have been slain.
The Gauntlet holds numerous perpetually burning buildings, including Legacy of Steel - Fine Weaponry, Enoyls Engineering, Inc., Chilton's Magic Shop and Cash & Sons - Pawn Brokers. It is the location of Stonespine, Nerub'enkan, Baroness Anastari, the Black Guard Swordsmith, Maleki the Pallid, and Magistrate Barthilas, notably along the three ziggurats of the zone.
Entering the Gauntlet once started the 45-minute timer to save Ysida Harmon in the original Stratholme.