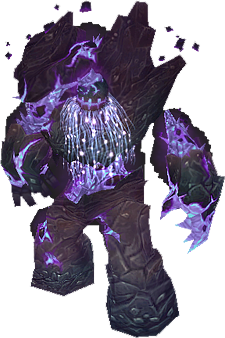 Gemstone colossi (extrapolated from "emerald colossi")[1] are enormous earth elementals and the greatest of the Stone Mother's creatures.[1] They are mostly found in Deepholm.
Notable
Types
Notes
Despite the being elementals, gemstone colossi are mostly classified as giants, with only Golgarok being classified as an elemental.
Gemstone colossi should not be confused with mountain giants or regular colossi.
References
^ a b  [30-35] 

The Axe of Earthly Sundering
Creature group
Elemental creatures

Elements

Types
Variants

Air variant
Earth variant
Fire variant
Water variant

Other
Golem
Nature
Creature group
Giant creatures