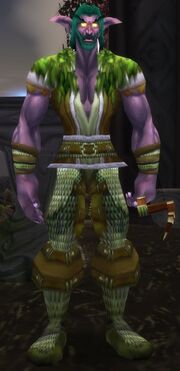 Gershala Nightwhisper is a night elf originally found in Auberdine in Darkshore. He studied the corrupt brain stems of satyr and naga in order to gain knowledge to prevent the blood elves from delving deeper into deformity and evil.[1]
He was among a handful of Auberdine survivors that was rescued at Mist's Edge following the Cataclysm.[2] However, after returning Grimclaw to Lor'danel, Gershala died from his injuries shortly after the adventurer left, along with Volcor.
Quests

The subject of this section was removed from World of Warcraft in patch 4.0.3a but is present in Classic.
Objective of
Quotes
Main article: The Last Wave of Survivors#Notes
References
^  [24D] 

Researching the Corruption

^  [5-30] 

The Last Wave of Survivors
External links