Get Back To Town

Start
Megs Dreadshredder
End
Sassy Hardwrench
Level
1-20
Category
Lost Isles
Experience
70
Reputation
+10 Bilgewater Cartel
Previous
  [1-20] 

Surrender or Else!

Next
  [1-20] 

Town-In-A-Box: Under Attack
Objectives
Speak with Sassy Hardwrench at the Town-In-A-Box on the Lost Isles.
Description
We were wrong. It wasn't the naga that were preparing to attack... it was the nearby Oomlot tribe.
<Name>, you need to get back to the Town-In-A-Box. The pygmies are already attacking!
Completion
<Name>! We're saved!
Who am I kidding? We're all going to die!!!
Notes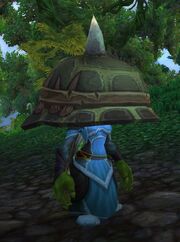 The Town-In-A-Box is under attack from

 Oomlot Warriors. Megs Dreadshredder gives the player the Dark Tan Helmet as disguise, leaving them unmolested on their journey back. The Dark Tan Helmet itself is likely a verbal and visual reference to the character Dark Helmet from the film Spaceballs.
Progression
Patch changes
External links