The subject of this article or section is part of Hallow's End
, a
seasonal event
that lasts two weeks. Once the event has run its course, this will no longer be available until next year, but there are no guarantees.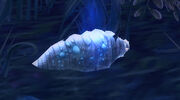 Ghost Maggots spawn at a player's garrison during Hallow's End after using the

 [Creepy Crawlers], purchased from Izzy Hollyfizzle for 5
.
Pet journal
If a live maggot eats the dead, what does an undead maggot eat?
Battles
Undead: Returns to life immortal for one round when killed, but deals 25% less damage.
Patch changes
See also
External links
Battle pet types
Undead battle pets

Backbone

Carpal

Clutch

Ghost Maggot

Maw Crawler

Micromancer

Mu'dud

Severs

Spinebug

Toenail

Torghast Lurker

Writhing Spine