Ghostlands
Author(s)
Richard A. Knaak
Artist(s)
Kim Jae-Hwan
Pages
192
Publisher(s)
Tokyopop (2007)
Blizzard Publishing (2018)
Publication date
March 13, 2007
September 15, 2018
Format(s)
Paperback
Retail price
US: $9.99
EU: €9.99
UK: £7.99
ISBN 10
1595327142 (2007)
ISBN 13
9781595327147 (2007)
978-1945683183 (2018)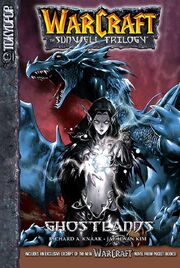 Ghostlands is the third original English manwha written by Richard A. Knaak and drawn by Kim Jae-Hwan of The Sunwell Trilogy. It was released on March 13, 2007 in the US [1] and February 28, 2007 in Canada [2].
1-The Nightmare Plains
2-Master of the Dead
3-Cry of the Banshee
4-Dark Reunion
5-Edge of the Abyss
6-Fire and Fury
Description
The mighty Sunwell, source of the high elves' might, had been thought lost... until now! In the ruins of the Ghostlands, a young blue dragon and his companions must fight to save one of their own from certain death. But here, the dead refuse to rest easy!
Characters
| Major | Supporting | Minor | Mentioned |
| --- | --- | --- | --- |
| | | | |
Locations
External links

Amazon
 2018

Amazon
 2007