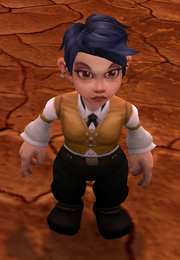 Gila Crosswires is the gnomish personal assistant of Tinkmaster Overspark. Initially seen in Nazjatar, she accompanies Overspark on the expedition from Boralus to Mechagon Island. During the final stage of the War Campaign, she is also in Razor Hill in Durotar along with Overspark and Gazlowe.
Quests
 [120] 

A Small Team

 [120] 

Report to Gila

 [120] 

Fame Waits for Gnome One
Objective of
Quotes
Boralus gossip
I am Tinkmaster Overspark's personal assistant and official documenter of all his engineering research.
I also handle his luggage.
Operation: Mechagon gossip
I am documenting as accurately as possible, so that future generations can read about the Tinkmaster's great discoveries.
Dialogue
Trivia
Patch changes
External links