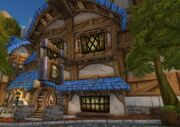 The Gilded Rose is the inn located in the Trade District. It is a popular resting point for travelers passing through the human capital of Stormwind City due to its proximity to the bank, Auction House, and an ever-popular mailbox. Its name is readable from the sign outside.
Innkeeper Allison is the host and offers a

 [Hearthstone] point as well as being a vendor of food and drink.
Notes
References