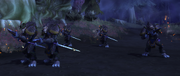 Gilnean Musketeers are troops of the Kingdom of Gilneas deployed to Darkshore. There, they are part of the campaign to aid the kaldorei in retaking their lands from the Horde. Other elements of the Gilnean military can also be found throughout the war zone. Sent by King Genn Greymane, they are being led in the field by Princess Tess Greymane and Commander Lorna Crowley.
In combat, they change into Worgen Musketeers, which does not alter their health or damage but merely is an aesthetic change. They, usually, change back right after combat has ended.
Abilities
  Disengage — The caster disengages from their current melee target. The force of the jump slows the target for 10 sec. 
  Shoot — Shoots at an enemy, inflicting Physical damage. 
Drops
Objective of
Quotes
Death to the Horde!

Fight for your brothers and sisters!

Follow me!

For the Alliance!

This way! We've got a war to win!

To battle!

Victory for the Alliance!

For Gilneas!

Gilneas... will not... falter...

The hunt... goes on...

Vengeance for King Greymane!

We will have the Banshee's head!

Your time will come...
Patch changes
See also
External links