Glacial collection
The subject of this article was removed from World of Warcraft in patch 3.0.2 but is present in World of Warcraft: Classic.

The subject of this article does not exist on the retail realms anymore.
The categories should reflect this, and should not include retail realm categories.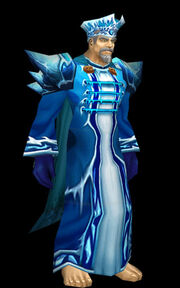 An item collection, this was not a true set. There are no bonuses if you wear more than one or all of the items in this collection. This Collection was designed primarily for players who were raiding the frost damage-oriented Naxxramas.
When Naxxramas was upgraded for Wrath of the Lich King with the release of patch 3.0.2, the items in this set became unavailable. The items in this set which were mob drops have been replaced by upgraded items, and the recipes can no longer be created due to the removal of required items such as Frozen Runes.
Details
Type
Made by

Tailoring, Quests and Naxxramas (Classic) drops
Primary Materials Required
Primary Stats
Frost Resistance
Spell Damage
Classes