The subject of this article was removed from World of Warcraft in patch 6.0.2.

This includes items and quests that can no longer be obtained or are now deprecated.
The in-game information in this article is kept purely for historical purposes.
Glyph of the Penguin is a minor glyph for mages. It modifies a mage's

[Polymorph] spell to polymorph a selected target into a penguin instead.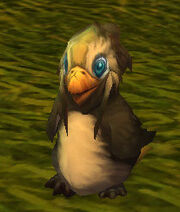 Source
This glyph is created with Inscription (75). It is discovered through

[Minor Inscription Research].
Patch changes
External links