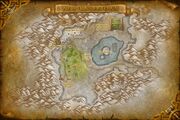 The gnomish starting experience takes place on the surface of Gnomeregan and at New Tinkertown in Chill Breeze Valley, in western Dun Morogh, a level 1-20 zone. After the political upheaval in Ironforge, the gnomes of Gnomeregan have started a daring campaign to retake their former capital. In the wake of Operation: Gnomeregan, survivors of the fallout make their way to New Tinkertown, the gnomes' foothold outside their captured city.[1] Although work is now under way to retrieve and decontaminate irradiated survivors from Gnomeregan itself, another battle has ignited in Dun Morogh against one of Sicco Thermaplugg's henchmen, Razlo Crushcog.[2]
The gnomish adventurers are found by the Survivor Assistance Facilitation Expedition, S.A.F.E., a team dedicated to rescue any survivors from the inner city. Despite being in contact with the the radiation that permeates Gnomeregan for a long time, the adventurers are found to be resistant to it.[3] They start by helping the S.A.F.E. team deal with the hostile leper gnomes attacking them, and helping any survivors escape.[4] Finally they are decontaminated[5] and brought to the surface to meet with the gnomish leader, High Tinker Mekkatorque.[6]
However, the fight goes on at the surface. The adventurers help their fellow gnomes bringing spare parts to build and test multi-bots,[7] and clearing the contamination at the Toxic Airfield.[8] They also help the renowned demolitionist Kharmarn Palegrip closing the caves beneath Frostmane Hold, which have been overrun by hostile troggs.[9] Then, after learning that Crushcog's minions had taken over an old arsenal to the north of New Tinkertown, Mekkatorque sends the adventurers to destroy the weapons and tanks the leper gnomes were building.[10][11] After they are sent to Brewnall Village, they join forces with a cadre of mountaineers from Ironforge.[12] The adventurers are first sent to eliminate the network of sentry-bots on the island in the middle of the frozen Iceflow Lake,[13] and then, together with the dwarves, they finally manage to take Crushcog down.[14]
With Crushcog defeated, Thermaplugg can't afford to send any more of his followers to the surface, so the gnomes finally take control of Chill Breeze Valley. Due to their heroic deeds, the adventurers are recommended by Jarvi Shadowstep, of the Gnomeregan Covert Ops, to speak with Captain Tharran in Kharanos, Dun Morogh. It appears that when the troggs took over Frostmane Hold, the surviving trolls that inhabited it fled westward, deep into the heart of the dwarven homeland, and are now threatening their towns.[15]
The story of the assault on Gnomeregan continues with  [10-30D] 

The G-Team

, in the Gnomeregan dungeon.
References