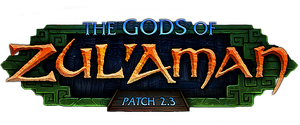 The Gods of Zul'Aman trailer is the official trailer for The Gods of Zul'Aman Patch 2.3.
Trailer
Transcript
Zul'jin: Dis... was our land. TROLL land. We Amani was here before ANYONE! Da elves and dere Alliance came to drive us out. But we never give up. We never forget...
Zul'jin: Da elves took my eye. I cut off my own arm to escape dem... and now, dey fight alongside da HORDE?! I SPIT on da Horde! I hate you, I hate you all... But I got a surprise for ya now, so come on in...