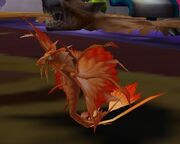 Golden Dragonhawk Hatchling is sold by Jilanne in Fairbreeze Village for 45
.
Pet Journal
Once prized by dragonhawk breeders in Silvermoon. Stands out at night to predators, making it necessary to gain awareness at an early age.
Battles
Dragonkin: Deals 50% additional damage on the next round after bringing a target's health below 50%.
Patch changes
External links
Battle pet types
Dragonkin battle pets