Golem Lord Argelmach is a Dark Iron dwarf mini-boss found in Blackrock Depths.
Argelmach stands in a private room of the Manufactory, guarded by two elite golems. If threatened, Argelmach will draw all living Manufactory technicians and golems to eliminate adventurers. Before taking him down, adventurers would probably find it advantageous to kill all mobs in the Manufactory first to lessen the difficulty of the fight.
Adventure Guide
Argelmach's lifelong obsession with immortality drove him to forge enchanted constructs in his own image. Rumor has it that he has also dabbled in some form of black magic that would allow the golem lord's new creations to act as vessels for his spirit should his flesh-and-blood body be destroyed.
Background
Argelmach was present during the First War when Thargas Anvilmar was captured and imprisoned. However, his brother Hjalmar rescued him.
World of Warcraft
Golem Lord Argelmach was killed by Lotwil Veriatus ten years ago (Before the Third War), but the Golem Lord continues to exist in the form of a mechanical decoy made in his semblance.[2] Argelmach held Marshal Windsor's Lost Information, needed in the Alliance Onyxia chain quest. His head is also wanted by the Horde, on behalf of Lotwil Veriatus. When his head was turned to Lotwil, it was revealed that he was another creation of the Dark Irons so another will rise in time.
World of Warcraft: The Comic
Argelmach indeed reappeared when King Varian "Lo'Gosh" Wrynn and company came in search of Marshal Windsor. Argelmach gets decapitated by Varian.[3]
Cataclysm
Argelmach was once again killed in new quests. It is unknown whether he was protected by the immortality again or if he is dead for sure.
Abilities
Quotes
Intruders in the Manufactory? My constructs will destroy you!
Objective of
Loot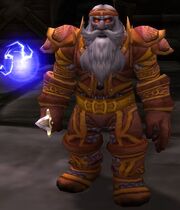 Patch changes
References
External links