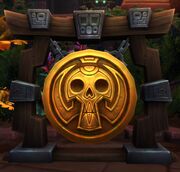 The Gong of Command is found in Speakers' Step in Zuldazar. As ordered by Zul, the Horde Speaker casted the

 [Seal of Implacable Fate] on it. When Vol'jamba used it, his Jambani Chosen turned against him instead.[1]
Objective of
Trivia
The object is named Gong of Command in  [110 - 120] 

Enforcing Fate

. After the quest is completed, classes with humanoid tracking can see the name Gong on the mini-map.
Gallery
Patch changes
References
^  [110 - 120] 

Plot Twist
External links