The subject of this article was removed in patch 4.0.3a but remains in World of Warcraft: Classic.

This includes items and quests that can no longer be obtained or are now deprecated.
The categories should reflect this, and should not include retail realm categories.
Gor'tesh, the brute lord, is an ogre and the leader of the Firegut ogres in the Burning Steppes. He is apparently a very intelligent ogre, ruling not directly from Dreadmaul Rock, but hiding in safety among the Blackrock clan forces near the Pillar of Ash.
Oralius wanted Gor'tesh's head for a party. In Cataclysm, his head still sits on a pike behind Oralius.
Abilities
Ground Smash
Head Smash
Knock Away
Thrash
Objective of
Patch changes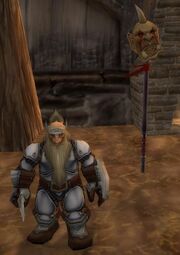 Patch 4.0.3a (2010-11-23): Oralius now stands next to Gor'tesh's Lopped Off Head. A new ogre,  Gorlop, now uses Gor'tesh's database ID.

Patch 1.7.0 (2005-09-13): Gor'tesh should no longer stay in evade mode indefinitely.

External links
Leader
Secondary leaders
Races