Gordok Ogre Suit
Use: Disguise yourself as one of the Gordok ogres, and maybe even fool a particular captain in the process! The suit will only hold together for 10 min.
Requires Level 42
"It lifts AND supports!"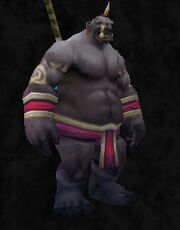 The Gordok Ogre Suit is required to do a Dire Maul Tribute Run in Dire Maul North. It changes the player into an ogre for 10 minutes, allowing them to bypass the last guard and continue to the King.
Source
This item is created by giving

 [Ogre Tannin] to Knot Thimblejack inside Dire Maul North.
The subject of this section has been removed from World of Warcraft.
Before Patch 4.0.3a, Knot Thimblejack asked for:
In addition, Knot Thimblejack would teach high level Leatherworkers and Tailors to create the suit with half the materials. The crafter needed a skill level of 275 in their respective craft.
Notes
If you have found the  

[

Gordok Shackle Key

]

, you can release Knot Thimblejack. If you do not have someone that can make the suit, do not release him until after he makes the suit.
The ogres inside the instance will often drop enough  

[

Runecloth

]

to make the needed bolts.
The wolves outside Dire Maul can be skinned to create enough leather for the suit.
The Ogre Tannin is found in a basket on a landing past Knot Thimblejack. When you loot the tannin, a Gordok Bushwacker will come down a ramp and attack you.
Once you put on the suit, try out different emotes. /dance is one you do not want to miss. It is both terrifying and beautiful in its grace and majesty.
Once you enter the final courtyard, you should see Captain Kromcrush guarding his king. Only the person wearing the suit should approach Kromcrush and talk to him. After a short conversation he will get angry and run off, leaving you alone with the king and his advisor.
Patch changes
External links