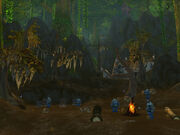 The Gordunni Outpost[75, 35]

is an area in the mountains north of Lariss Pavilion currently held by the Gordunni ogres. Their presence has wilted the normally verdant plant life of Feralas into a withered brown.
The hills have two caves, a small one towards the entrance and an ogre mound at the back of the area. Near the back cave is a captured sasquatch, Bigfist.
Gordunni Hillguards, Gordunni Channelers and Gordunni Tamers roam the area.
Notes
See also
External links