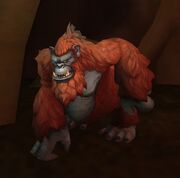 Gorillas are a species of ape found in Stranglethorn Vale, Feralas, Un'Goro Crater, Sholazar Basin, the Jade Forest, and Zandalar. They are typically hostile to any travelers that come across them despite the fact that they are herbivores. An enormous gorilla named King Mukla dwells on Jaguero Island in southeast Stranglethorn Vale, holding a tauren named Princess Poobah captive.
Young apes quickly learn to hang from branches with their feet, leaving both hands free to fling objects at interlopers.[1] The gorillas at Gorilla Gorge in Zuldazar are highly intelligent due to the presence of kaja'mite.[2]
Notable
Types
Groups
As a companion pet
As a hunter pet
Gorillas are a family of Tenacity pets and are tamable by hunters starting at level 28. Gorillas, through use of their

[Pummel] ability, interrupt spellcasting, preventing any spell in that school from being cast for 2 sec. This is great in PvP and also has uses in PvE, especially for interrupting bosses in 5-player dungeons.
There are five different skins available for gorilla pets - the white

 Tsul'Kalu model being the rarest by far. Gorillas became very popular for a time because they were the only pet with access to the Thunderstomp skill. With Thunderstomp now available to any Tenacity pet, they have become uncommon.
Patch changes

Patch 6.0.2 (2014-10-14):
[Pummel] replaced with
[Blessing of Kongs].


Patch 3.1.0 (2009-04-14): Bonuses equalized.
Damage had no bonus and now has +5% bonus.
Health had a 10% bonus and now has a +5% bonus.


Patch 3.1.0 (2009-04-14): Now have a new family ability, Pummel, which works like the warrior ability and has a single rank.
Pummel replaced Thunderstomp, which is now a talented ability.


Patch 3.0.2 (2008-10-14): Major changes.
Gallery
Art
Patch changes
References
^  [10-50] 

Kaja'mite Ore Bust
External links

Petopia
Creature group
Beast creatures

 

Arthropod

Arachnid
Crustacean
Insect

 

Mammal

Carnivoran
Ungulate

Bovids
Camelids
Cetaceans
Proboscids
Swine
 

Basic
Special

Acid Bite

Chi-Ji's Tranquility

Defense Matrix

Dragon's Guile

Feather Flurry

Fleethoof

Furious Bite

Grievous Bite

Infected Bite

Nether Energy

Niuzao's Fortitude

Obsidian Skin

Scale Shield

Spirit Pulse

Toxic Sting

Winged Agility

Exotic

Calcified Carapace

Dune Strider

Shimmering Scale

Bonus
Specialization