Main article: Warmaster Blackhorn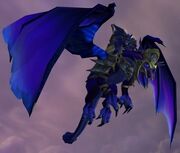 Though once vast in number, only a few dozen twilight drakes now remain. Astride these hardened survivors are the last vestiges of the Twilight's Hammer's army: the elite drake riders of Deathwing's personal escort. Led by the insidious Warmaster Blackhorn, they move with unholy purpose, driven to protect their dark master. The massive twilight drake Goriona is the mount of Warmaster Blackhorn. If the attack strikes the deck of The Skyfire without hitting any player, the gunship suffers the full damage. When severely injured, Warmaster Blackhorn drains health directly from Goriona. After depositing her master on the deck of the Skyfire, Goriona hovers along the Skyfire and rains destruction down on the players. Once Goriona has suffered sufficient damage, she will break off and flee, abandoning her master on the Skyfire. On Heroic mode, upon reaching 90% health, Goriona will land on the Skyfire's deck to assist her master.
After the fight ends and she escapes, it's unknown what becomes of her.
Abilities
Notes
Strategy
Main article: Warmaster Blackhorn
Notes
Patch changes
External links