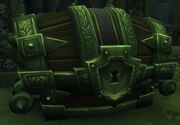 Grand Challenger's Bounty is a chest found at the Great Seal of Dazar'alor or Boralus that is used as a placeholder chest until the end of the week if a Mythic+ dungeon has been completed within the week until server reset. If a Mythic+ dungeon was completed last week, the chest would be waiting to be looted.
Prior to the release of Battle for Azeroth, it was found at every Class Hall.
Loot

Please add any available information to this section.

Artifact Power
The subject of this section was removed from World of Warcraft in patch 8.0.1.
Trivia
You are able to loot the chest at the other faction location.[1]
Patch changes
Referances
External links