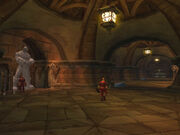 The Grand Vestibule is the outermost chamber of the Scarlet Monastery. It holds the entrances to both the Scarlet Halls and Scarlet Monastery instances.
The vestibule itself is decorated with pillars and statues of scarlet warriors. It is often a contested place, as Horde and Alliance-affiliated adventurers mingle in the hall; with sometimes brutal results.
List of mobs
Gallery
Patch changes
Until keys were removed from the game,  

[

The Scarlet Key

]

was required to open the Cathedral and Armory doors. When Rogues had to practice lockpicking, instead of automatically leveling the skill, opening these doors used to be an easy method.