Grappling Gauntlet
Use: Teaches you how to summon this companion.
Grappling Gauntlet is a crawling hand that drops from many Mawsworn creatures in the Maw and Korthia, including the Tormentors of Torghast.
Battles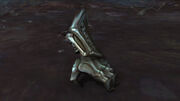 Struggle all you want, it will just grip harder.
Undead: Returns to life immortal for one round when killed, but deals 25% less damage.
Patch changes
External links