Grazlix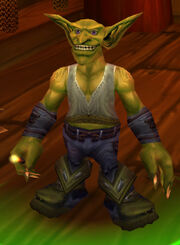 Grazlix is a level 25 armor and shield vendor located in Ratchet of Northern Barrens. He maintains the armor store Plate-n-Chain along with Vexspindle, a cloth and leather armor merchant. He carries a red hot iron.

This section concerns content related to Legion.
He was present during the Legion Invasions.
Sells

This vendor offers a repair service.
(1)x 

[

Antiquated Cloak

]


53 15
(1)x 

[

Bear Buckler

]


65 41
(1)x 

[

Fiery Cloak

]


74 46
(1)x 

[

Guardian Buckler

]


83 21
(1)x 

[

Heavy Runed Cloak

]


67 61

[

Large Metal Shield

]


34 33
(1)x 

[

Legionnaire's Leggings

]


87 73
(1)x 

[

Mighty Chain Pants

]


71 27
(1)x 

[

Owl's Disk

]


67 46

[

Ringed Buckler

]


24 47

[

Scalemail Belt

]


19 84

[

Scalemail Boots

]


28 31

[

Scalemail Bracers

]


19 76

[

Scalemail Gloves

]


18 94

[

Scalemail Pants

]


37 67

[

Scalemail Vest

]


41 48
Patch changes
See also
External links
| Northern Barrens | Legion Invasion |
| --- | --- |
| | |