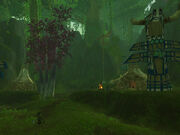 The Grimtotem Compound [69, 39]

is a large village, made of two areas, east of Dire Maul in Feralas. As the name implies, it is here Grimtotem tauren make one of their homes. In the southern section a large cage contains several imprisoned Sprite Darters.
East of the northern section are a few gnoll camps.
Notes
The southern section is no longer flagged under the subzone since Cataclysm.
External links