The subject of this article can no longer be obtained.

The in-game information in this article is kept purely for historical purposes.
Grinning Reaver
Mount
Use: Teaches you how to summon this mount. The capabilities of this mount depend on your Riding skill and location.
Requires Level 20
Requires Apprentice Riding
Grinning Reaver is a ravager.
Source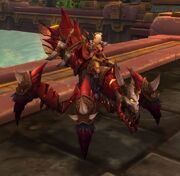 This item is available for purchase from the shop or the In-Game Store for $25 or €25. It was released on December 3, 2014 along with

 [Argi].[1]
With the See You Later Bundle on December 20, 2019, this mount was available at a discounted price with other items. On January 19, 2019, the mount is no longer available for purchase as it entered hibernation in the Blizzard Archive.[2]
Mount Journal
The difference between a smile and a grin is the difference between a kiss and tasting.
Become the swarm on the back of this ever-grinning terror.
Ever-Grinning terror - Embrace your inner evil as you dart through the skies and skitter across the land on this primal prodigy. And when the mood strikes, let your own grin mirror the reaver's sinister smile. Because you deserve it.
Patch changes
References
External links
Mount family

Dragonkin
Feathermane
Invertebrate
Mammal
Reptile
Other

Specific types