Grommloc
Use: Teaches you how to summon this companion.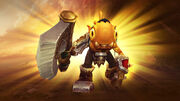 Grommloc is a Gromash Hellscream-themed companion that can be obtained from the BlizzCon 2014 swag/goodie bag.[1]
Source
Players receive Grommloc in a letter from Master Handler Sylvester:
BlizzCon 2014
Thank you for attending BlizzCon 2014!
As a special gift of appreciation, we would like to present you with the littlest Warlord - Grommloc!
May Grommloc lead you to new adventures across the face of Azeroth and beyond!
Pet Journal
No matter how much he screams, never give him demon blood.
Battles
Humanoid: Recovers 4% of their maximum health if they dealt damage this round.
Notes and trivia
Grommloc was released to players on October 31, 2014 in advance of BlizzCon 2014, but players quickly noticed that there was no Feat of Strength for learning the companion. Senior designer Jeremy Feasel quickly tweeted out a response: "Adding in 6.1, our apologies, you will retroactively get your FoS."[2]
Patch changes
References
External links
Battle pet types
Humanoid battle pets

Dal

Grommloc

Lightless Tormentor

Lost Featherling

Rook

Ruffle

Spriggan Trickster

Steward Featherling

Winterleaf Spriggan