Objectives
Challenge Gromm'ko at the Seat of the Chosen in Hyjal.
Description
I don't know if you've picked up on this, but there's a bit of a rivalry between the ogre members of the Twilight's Hammer and the rest of us.
For me... it's personal.
This one ogre called Gromm'ko has a pet raptor named "Butcher." He's taken out the last three of my corehound pups.
I think this last one will fare differently. He's got a real killer's instinct.
Go to the Seat of the Chosen and challenge Gromm'ko to a match between our two beasts. Humiliate him for me, <name>damus.
Rewards
Progress
Is it done, <name>damus? Did our little champ make it out ok?
Completion
That's how it's done!
Notes
Head west, then take the north fork to the Seat of the Chosen. Inside the building to the left of the big cave at [77.8, 51.4]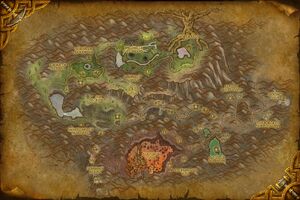 is Gromm'ko.
My raptor can take on ANYTHING and ANYONE!

 Instructor Devoran sends a contender against your raptor.
A Spawn of Smolderos attacks and eventually kills Butcher. Then:
Gromm'ko yells: You! Your mutt killed my Butcher! I will crush you!
Gromm'ko turns hostile. Kill him to complete the quest.
This concludes Devoran's quests. Do Mylva's and Ortell's quests to continue the storyline.
Progression
Patch changes
External links