Grummle Bazaar

Grummle Bazaar
Race(s)
 Grummle
 Pandaren
Location
Eastern Kun-Lai Summit[63, 60]
Characteristics
Facilities

Stables

Anvil & Forge

Bank        Auctions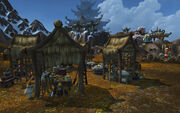 The Grummle Bazaar is the eastern extent of the Burlap Trail in east-central Kun-Lai Summit. In sight of the Temple of the White Tiger to the northeast, One Keg is up the burlap trail to the west, Fire Camp Ruqin is just to the south, and Fire Camp Yongqi is to the east. From here, convoys leave for Neverest Basecamp with a stop at One Keg.
The local inn is The Two Fisted Brew.
Inhabitants
Vendors & Services
Patch changes
External links