The subject of this article or section is part of Feast of Winter Veil
, a
seasonal event
that lasts several weeks. Once the event has run its course, this will no longer be available until next year, but there are no guarantees.
For the mob, see Grumpling.
Grumpling
Use: Teaches you how to summon this companion.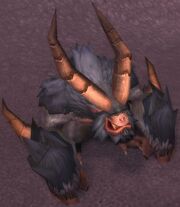 Source
Grumpling has a chance to be found inside Snow Mounds around Grumpus' lair in Frostfire Ridge during the Feast of Winter Veil.
Pet Journal
Grumplings are created when the tears of a kidnapped child fall upon a mound of new snow.
Battles
Humanoid: Recovers 4% of their maximum health if they dealt damage this round.
Patch changes
External links
Battle pet types
Humanoid battle pets

Dal

Grumpling

Lightless Tormentor

Lost Featherling

Rook

Ruffle

Spriggan Trickster

Steward Featherling

Winterleaf Spriggan