For lore about grunts, see Grunt.
Grunt
 
Race
Orc
Statistics
Hit Points
60
Armor
2
4 (1 upgrade)
6 (all upgrades)
Basic Damage
9
11 (1 upgrade)
13 (all upgrades)
Piercing Damage
1
Range
N/A
Speed
7
Sight
2
Decay Rate
N/A
Production Related
Gold
400
Lumber
0
Produced at
Barracks
Build time
600
Campaign
Unlocked in
The Swamps of Sorrow
Grunts are the first level of warrior in the service of our armies. Trained for close combat, these soldiers make excellent fodder for wading through Human forces. Use of the ax and shield is their specialty, and they are hearty fighters with a taste for blood.[1]
Information
The backbone of any army, Grunts are the most basic attacking units that can be built. While not very powerful or resistant, they are well prepared to take on any unit, are cheap and don't require any lumber or any additional buildings to train, making them both the first line of attack of an army and a resourceful last-ditch defence. They also come in handy as cannon fodder, to take on Water Elementals or Daemons while the latter are being attacked by Spearmen and spell casters.
Upgrades
Upgrade

A

xe Strength
| Research Cost | Researched At | Upgrade Time |
| --- | --- | --- |
| 750 | Blacksmith | 120 |
Upgrade

A

xe Strength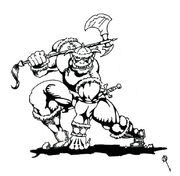 | Research Cost | Researched At | Upgrade Time |
| --- | --- | --- |
| 1500 | Blacksmith | 120 |

Upgrade

S

hield Strength

Increases the armor of all your units and buildings by 2
| Research Cost | Researched At | Upgrade Time |
| --- | --- | --- |
| 750 | Blacksmith | 120 |
| Research Cost | Researched At | Upgrade Time |
| --- | --- | --- |
| 1500 | Blacksmith | 120 |
Quotes
See also
References