For the Tiragarde Sound NPC, see Gryphon Hatchling (Tiragarde Sound) and Gryphon Hatchling (Gilneas).
Gryphon Hatchling
Use: Teaches you how to summon this companion.
Gryphon Hatchling is available from the original Blizzard Store for $25 US or €25[1] along with the gryphon hatchling plushie. The in-game pet requires a Battle.net account to activate.[2]
It was released on 2/22/10 along with the
 [Wind Rider Cub].
Pet Journal
A gift from the Wildhammer dwarves to the heroes of the Alliance, these hatchlings are descendants of the same gryphons ridden by Falstad and his entourage into Grim Batol.
Battles
Description
Players are mailed this pet by Breanni:
Gryphon Hatchling
Hello!
Please give a warm welcome to your new happy hatchling!
I'm so happy you could give this gorgeous little gryphon a home.
--Breanni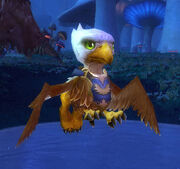 Patch changes
References
External links
Purchase
Blizzard Store
 Gryphon Hatchling with BONUS In-game Companion (US)
Blizzard Store
 Gryphon Hatchling with BONUS In-game Companion (EU)
Battle pet types
Flying battle pets

Archetype of Malice

Archetype of Motion

Archetype of Satisfaction

Battie

Bloodsucker Vespoid

Dusty Sporeflutterer

Enraged Poultrid

Fluttering Glimmerfly

Foulwing Buzzer

Fuzzy Shimmermoth

Gilded Wader

Gryphon Hatchling

Helpful Glimmerfly

Larion Pouncer

Multichicken

Necroray Spawnling

Pearlwing Heron

Scarlet Proto Avian

Sinfall Screecher

Stony

Vibrant Glimmerfly

Violent Poultrid

Wader Chick

Wild Etherwyrm