"Speak with me when you're ready to go."
Gryth Thurden is a dwarf gryphon flight master located at the Great Forge in Ironforge.
Background

This section concerns content related to the Warcraft novels, novellas, or short stories.
Shortly before the Cataclysm, Moira returned to Iroforge and proclaimed that the gryphons were afflicted with a "terrible sickness" and needed to be quarantined outside the city. While anyone could tell this was an obvious lie, Gryth had no choice lest his charges be killed; one's wing had already been injured for expressing its dislike of a Dark Iron by taking a bite out of one. He explained all of this to Prince Anduin Wrynn who, with the information about Deeprun Tram being closed "for repairs", realized that Moira was isolating Ironforge so that she could keep the entire city captive.[1]
Quests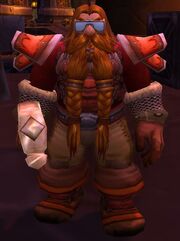 The subject of this section was removed from World of Warcraft in patch 4.0.3a but is present in Classic.
 [10] 

Gryth Thurden

 [10] 

Return to Brock
Quotes
Gossip
The Wildhammer dwarves might have fast steeds, but can those Aerie Peak gryphons stand the heat of The Great Forge? I think not!

 I need a ride.
 Mountaineer Barleybrew said you could help me get to Loch Modan.
Flight paths
Trivia
Patch changes
See also
References
External links