Guardian Cub
Duration: 1 day
Use: Teaches you how to summon this companion. Unbinds in 24 hours.
The Guardian Cub is a smaller, companion pet version of the

 [Winged Guardian] mount.
Source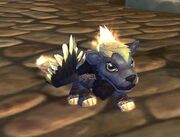 This item was available from the Pet Store for $10 US or €10. It was released on November 1, 2011.[1]
On June 4, 2014, it was announced that the Guardian Cub would be removed from the Battle.net Shop and into hibernation in the Blizzard Archive no earlier than June 18th, 2014.[2]
Pet Journal
Still a little clumsy, this tiny winged lion is learning how to be the best mount it can be!
Battles
Letter
Players are mailed this pet by Breanni:
Guardian Cub
Hello!
Please give a warm welcome to your new cuddly cub!
I'm so happy you could give this ferocious little flyer a home.
--Breanni
Notes and trivia
Unlike previous Pet Store pets, this item can only be sent to ONE character on your account.[3]
This pet is only soulbound for the first 24 hours, after which it can be freely traded or auctioned to other players.[3]
When you attempt to learn it, you are given a confirmation check: "Are you sure you want to use this item?"
Available only to players on realms located in North America, Europe, and Korea[4] and requires a Battle.net account to receive.[5]
Patch changes
References
External links
| Soulbound version | Unbound version |
| --- | --- |
| | |
Battle pet types
Flying battle pets

Archetype of Malice

Archetype of Motion

Archetype of Satisfaction

Battie

Bloodsucker Vespoid

Dusty Sporeflutterer

Enraged Poultrid

Fluttering Glimmerfly

Foulwing Buzzer

Fuzzy Shimmermoth

Gilded Wader

Guardian Cub

Helpful Glimmerfly

Larion Pouncer

Multichicken

Necroray Spawnling

Pearlwing Heron

Scarlet Proto Avian

Sinfall Screecher

Stony

Vibrant Glimmerfly

Violent Poultrid

Wader Chick

Wild Etherwyrm