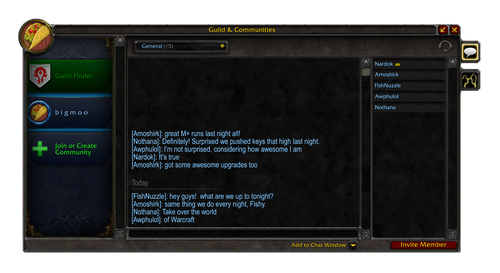 The Guild & Communities is the community system for creating Blizzard Groups with text chat and the history, voice chat, roles, calendar invites, and more. The Blizzard Groups are also viewable in the Blizzard Battle.net desktop app.
The Guild list interface has been implemented into this new community interface but can still be accessed separately.
Gallery
Patch changes
Patch 8.1.0 (2018-12-11):

The responsiveness of the Communities UI has been improved.
Upcoming calendar events are now shown in Community chat.


Patch 8.0.1 (2018-07-17): Added.

 

Expansion features