The Guild Finder is an interface designed to enable easier and faster guild recruitment.[1]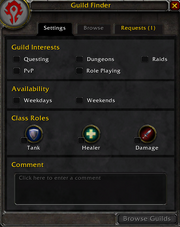 This interface only appears to players without a guild, replacing their normal Guild Window. It can be accessed from the micro menu, between the Quest Log and the Group Finder, or through the default hot key J.
Design
By default the Settings tab appears. Players select options from three sections, and have an optional text box they can use before being able to browse guilds which are recruiting.
Mandatory sections include:
Guild Interests
Availability
Class Roles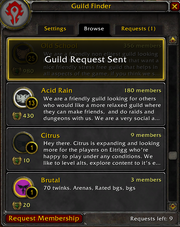 After filling in the Settings tab, the Browse tab becomes available. Here, players can view guilds who meet their needs. Each guild summary includes the Guild Name, Guild Logo, Guild Level, point total for Guild achievements, number of members, and a short summary (if provided by the guild). When a player finds a guild that seems of interest to them, they can select the guild, and then Request Membership via the button in the lower left. A dialog box appears including the Guild name, Guild Level, and a comment box. When satisfied, the player can click "Send". At this time, the display for the guild will become greyed out and will show a "Guild Request Sent" notice. Players have a limited number of requests they can use at a time. The remaining total is displayed in the lower right corner of the window.
If a player has an outstanding guild request, it shows up under the Requests tab. The guild name is displayed along with the time until the request expires, which begins at 30 days. Tool tips for the guild remind the player of the matching interests, availability, and role recruitment for that particular guild. A player can also cancel their request on this screen.
Patch changes
References
 

Expansion features