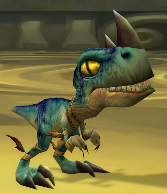 Gundrak Hatchling is a raptor companion pet.
Source
The Gundrak Hatchling have a small chance to drop from Gundrak Raptors.
It can also be listed on the Black Market Auction House by Breanni, with the opening bid of 1,000

.
Pet Journal
This crafty raptor was born in the icy wastes of Northrend. Its harsh upbringing gives it strength when many others would perish.
Battles
Patch changes
External links
Battle pet types
Beast battle pets

Archetype of Cunning

Archetype of Discovery

Archetype of Predation

Bloodfeaster Spiderling

Blushing Spiderling

Copperfur Kit

Corpulent Bonetusk

Goldenpaw Kit

Green Viperid

Gundrak Hatchling

King Viperid

Momma Vombata

Red Viperid

Rosetipped Spiderling

Ruby Baubleworm

Rustfur Kit

Sable

Tarachnid Ambusher

Tarachnid Stalker

Topaz Baubleworm

Tunneling Vombata

Turquoise Baubleworm

Verdant Kit

Viperid Menace

Vombata Pup