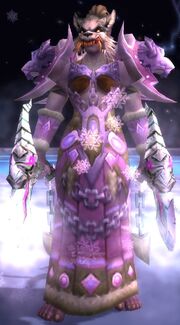 Hagara the Stormbinder is the fourth boss to appear in the Dragon Soul raid.[1]
World first heroic kill on 25-man achieved 7.12.2011 by Blood Legion - US-Illidan.
Background
Adventure Guide
Hagara, one of the first students of arcane magic under the Forsaken, showed surprising potential for one who had started learning so late in life. But in her undisciplined attempts to bind elementals into servitude, she was ensnared and twisted by the Windlord, Al'Akir. Now fiercely loyal to the Twilight's Hammer, Hagara binds others for her elemental masters to torment.
Abilities
Hagara the Stormbinder carries a 8 minutes enrage timer in Normal/raid finder difficult and a 10 minutes enrage on heroic difficult.
Strategy
Requirements
For this fight you will need: 1 Tank, 3 Healers and 6 DPS.
Overview
This boss has a main phase and two special phases; lightning phase and ice phase. This boss is fairly easy to clear as long as everyone follows the instructions correctly and does the right thing in the special phases.
Main Phase
The key to this phase is DPSing down the Ice Tombs quickly. The players who are trapped inside cannot be healed and will die unless the tombs are killed quickly.
Players affected by Ice Lance should make sure to be at least 3 yards away from other raid members. It is advantageous for ranged casters to walk into the path of the ice lance to prevent the missiles from detonating in melee range (which would debuff multiple people).
Shattered Ice can be dispelled to remove the slow effect.
The way to stop Focused Assault is to get out of melee range and force the boss to move. A tank with a boss cooldown tracker can andicipate the Focused Assault and strafe away a fraction of a second before it is cast, resulting in no damage. Backing away from the Focused Assault is a slower way to escape it and you will take significant damage. Running through the boss and out the other side is even less effective since you can be hit from behind.
Lightning Phase
At the start of the phase Hagara summons 4 Crystal Conductors, that are spaced out around the platform. She also summons a Bound Lightning Elemental. When the elemental dies it will overload whichever Crystal Conductor is nearest. The raid should prepare for this and spread out into a swarm that stretches from the doomed conductor to another conductor to speed up the the subsequent overload phase.
Once overloaded, the player nearest the Crystal Conductor becomes a Lightning Conduit. The lightning will chain to other nearby players. This is actually necessary because the goal of this phase is to overload the other 3 conductors by chaining the lightning from overloaded conductors to intact conductors. The most common tactic is for the entire raid to run from conductor to conductor in a strung-out swarm. The lighting usually bounces around the swarm, but occasionally fizzles out, forcing the swarm to turn around and re-establish a circuit from the overloaded conductor.
Very coordinated teams can send half the raid in each direction to overload the conductors more quickly, although the reduced number of players on each team increases the risk that the lightning will peter out.
When this phase ends, Hagara is debuffed and takes 100% more damage for 15 seconds.
Ice Phase
At the start of the phase, Hagara fills the center part of the platform with water (which can quickly kill players and pets who do not move to the edge), and summons 4 Binding Crystals. Shortly after the Binding Crystals spawn, 4 equally spaced waves of ice appear and begin to rotate around the platform in a clockwise direction. The phase ends when all 4 Binding Crystals have been destroyed. Throughout the phase Icicles randomly drop onto the outer part of the platform, damaging players and knocking them back.
The raid should divide itself evenly between the 4 crystals and destroy them. If the ice waves activate before the crystals are destroyed, run ahead of the wave to finish off the crystal left behind by the team in front of you. Powerful teams that split optimally can destroy all 4 crystals before the ice waves start rotating. If the raid does not divide its DPS evenly, this phase will last longer as the strongest team rotates to mop up the crystals left behind by the weaker teams.
Notes
It is possible to predict which special phase will be first by examining Hagara's weapons. If they are wreathed in lightning then a lightning phase will be first. If they are wreathed in frost, then a frost phase will be first.
Heroic
Focused Assault can not be stopped. The healers and tank just have to be powerful enough to outlast it.
Ice Lance becomes fantastically dangerous. Instead of slowing melee attacks it stacks a debuff that increases frost damage suffered. A tank can sometimes survive 15 stacks, but normal players should try to avoid more than 3, because 6 is sometimes fatal. One tactic is to assign teams of two that take turns suffering the ice lance to let the debuff fall off. This is sometimes frustrated when both members of a team become Ice Lance targets.
Shattered Ice can kill a player who has enough Ice Lance debuff stacks. The tank should remain still so that all the other players can hide behind Hagara.
Frozen Tempest (frost phase) adds Frostflake. A player with Frostflake is progressively slowed until they are immobile. If the player dies while affected by Frostflake they leave behind a patch of frost that slows all players and lasts until all binding crystals are destroyed. A player who is dispelled outside the Watery Entrenchment also leaves a frost patch. It is very important to delay the dispel of Frostflake until the the player is inside the Watery Entrenchment sphere to prevent accumulation of frost patches. Dying inside the Watery Entrenchment creates a frost patch. Do not let anyone die. Fortunately skilled players can avoid most of the damage in this phase.
It is common to divide the raid into two teams that are on opposite sides of Hagara. This means that any players forced to fall behind by Frostflake can be picked up by the other team's healer.
Lightning Storm is more powerful in heroic mode and there are 8 conductors instead of 4. There is also a Storm Pillar which is foreshadowed by a faded rune circle on the ground; get out. To avoid massive raid-wide damage from Lightning Conduit, most of the raid will pile up in the middle next to Hagara while two teams of two players chain the lightning from conductor to conductor. One team will move clockwise, the other will move counterclockwise.
With fewer players the quirks of the chaining algorithm and network lag will be more obvious. It appears that the lightning propagation involves a bit of "momentum" in that cutting corners can prevent lightning propagation. It can be very hard to establish a lightning chain with immobile playes, but players moving in a straight line can easily chain lightning. This could be related to network lag and motion estimation.
If the lightning phase drags on too long the raid-wide debuff stacking on the raid will cause players to be 1-shot by Lightning Conduit or the Lightning Storm. Healers usually spend a lot of mana keeping the raid alive during lightning phase.
Solo Strategy
When soloing Hagara at level 100 (or higher), the biggest obstacle is the lightning phase, since it requires multiple players to chain the lightning between the crystals. Use all your DPS cooldowns right away and try to kill Hagara before she can activate her Water Shield. If she does enter the lightning phase, it will end after 5 minutes. Focus on staying alive and self-healing, then finish her off once the phase ends.
Loot
Hagara the Stormbinder's drops
Related achievements
Quotes
Intro

Heh! Even with the aspect of time on your side, you stumble foolishly into a trap.

Don't preen just yet little pups, we'll cleanse this world of your kind.

Heh! You won't leave this place alive.

Not one of you will live to see the final Cataclysm! Finish them!

Swagger all you like; you pups don't stand a chance. Flee now, while you can.
Aggro

You cross the Stormbinder! I'll slaughter you all.
Ice Lance
You face more than my axes, this close.

See what becomes of those who stand before me!

Feel a chill up your spine...?
Ice Tomb
Ice Wave
You can't outrun the storm.

Die beneath the ice.
Frozen Binding Crystal destroyed
The time I spent binding that, WASTED!

You'll PAY for that.

Enough!

Again?!

Impudent pup!

The one remaining is still enough to finish you.
Lighting Storm
Suffer the storm's wrath!

Thunder and lightning dance at my call!
Overload
What are you doing?

You're toying with death.

You think you can play with my lightning?

No! More... lightning...

Enough of your games! You won't live to do it again.

I'll finish you now pups!
Feedback
Killing a player
You should have run, dog!

Feh!

Down, pup.

A waste of my time.
Death

Cowards! You pack of weakling...dogs...
Unused quote

Get away from that, mongrel.
Videos
10-man Normal Live
25-man Normal Live
25-man Heroic
Trivia
Patch changes
References
External links
Guides

Icy Veins
 Comprehensive Hagara the Stormbinder strategy guide (includes Heroic mode and perspective guides for tanks, healers, and DPS)

Love2playwow
 Hagara the Stormbinder Video Guides