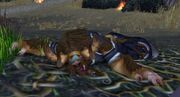 Halian Shlavahawk is a Highmountain tauren located in the Valley of Strength in Orgrimmar. Once he met the adventurer, he resolved to go to Ashenvale.
He is later found deceased on the border between Ashenvale and Northern Barrens, exactly at Mor'shan Rampart's border end with the Fallen Sky Lake of the Ashenvale Forest.
Quests
Quotes
Good luck, <name>. As for me, I am going to test my skill in Ashenvale. For the Horde!
Notes
His corpse was first added to the Barrens, with his living version appearing in Orgrimmar later.
Patch changes
External links